DocPanel

2019 - 2020
DocPanel

is the world's first Radiology Marketplace, connecting patients and healthcare providers to a network of radiologists who give expert second opinions and provide radiology reading services on-demand.
New Feature:
Reporting Templates
Pain Points
67% of our clients require our radiologists to use specific templates while reporting cases, and the only way the templates could be created/modified was if they contacted us to make changes in the backend. This was a time-consuming process and the radiologists took longer to report cases due to the lack of templates.

Solution
A template editor accessible to the radiologists that has a guide to all the shortcuts on creating customized templates for their clients.


Key Features
Make templates default to auto-load when a case is opened

Associate templates to specific clients

Customize template names

Auto-populate specific fields (patient information like name, age, gender)

Impact
We have 122 active radiologists on our platform out of which 82% use the template editor to make the process of reporting cases faster. Our average turnaround time for cases reduced by 73% after releasing this feature.
Redesign: List View
Pain Points
Radiologists need to see case information before accepting and reading a case. They have the option to toggle between our grid and list view. The grid view is visually appealing but doesn't include all the information and the list view gives all the information but is illegible because of it's UI.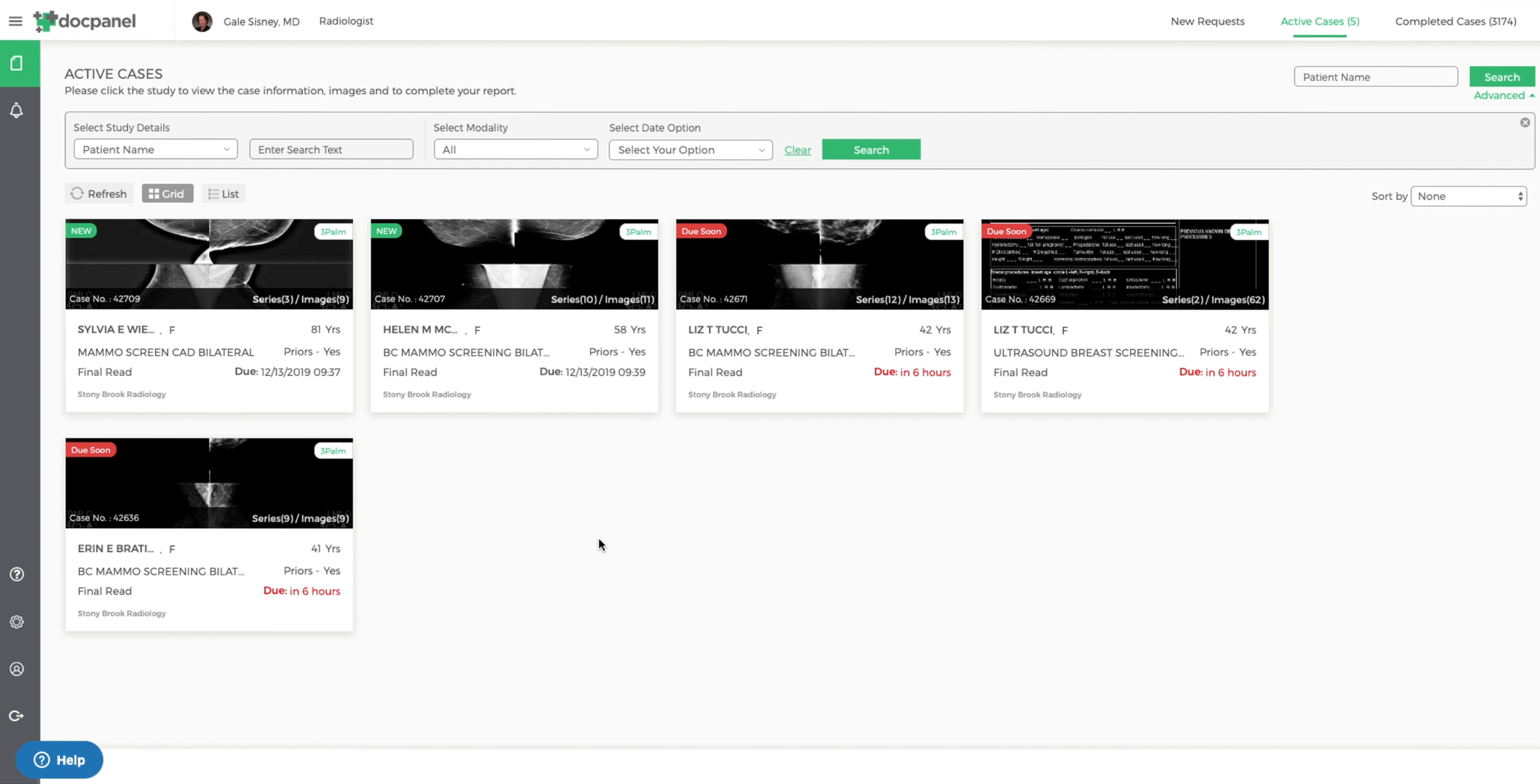 Solution
Redesign the list view to have configurable columns to display all the case and patient information making it systematic, coherent and easily digestable.
Key Features
Configurable columns with show, hide and reorder option





Sort by ascending or descending order in each column

Search in Browser for keyword searches

Actions accessible in a drop down list
Impact
This redesign increased our users prefering list view over grid view. We eventually made the list view default because 62% of our radiologists requested for it. The Search Browser feature reduced the time spent on looking for a case.
New Feature: Merge and Split Cases
Pain Points
29.8% of our cases come from our Mammogram clients. Mammo cases often need to be merged with Ultrasounds for our radiologists and this could only be done in the backend by our technical support staff. This increased the amount of time a case was left incomplete before being assigned to a radiologist, leading to longer turnaround times for completed reports.
Solution
Introduce a new feature for clients to merge and split cases in our platform at their convenience.


Impact
The new feature increased the number of mammogram cases read by our radiologists in one day by 12%. A survey taken by our clients reported that this feature is one of the top three features they use in our platform.
New Feature:
Publishing Reports with Critical Findings
Pain Points
Radiologists often come across critical findings (fractures, strokes, traumatic injuries) while reading cases, but they don't have a way to directly notify the client or patient of their finding. For example, if a radiologist thinks a patient needs to visit the ER, they need to contact DocPanel to reach out to the client, making the communication lengthy and inefficient.
Solution
Create a new workflow for radiologists to report and clients to track critical finding cases.
Key Features
Categorize critical finding into 3 buckets for the radiologist (Emergent, Urgent and Non-Urgent / Follow up Finding)
Display a list of findings to choose from and a "Add Notes" section to give more context to the finding
Display contact information to the radiologist before they publish a case so they can contact the right person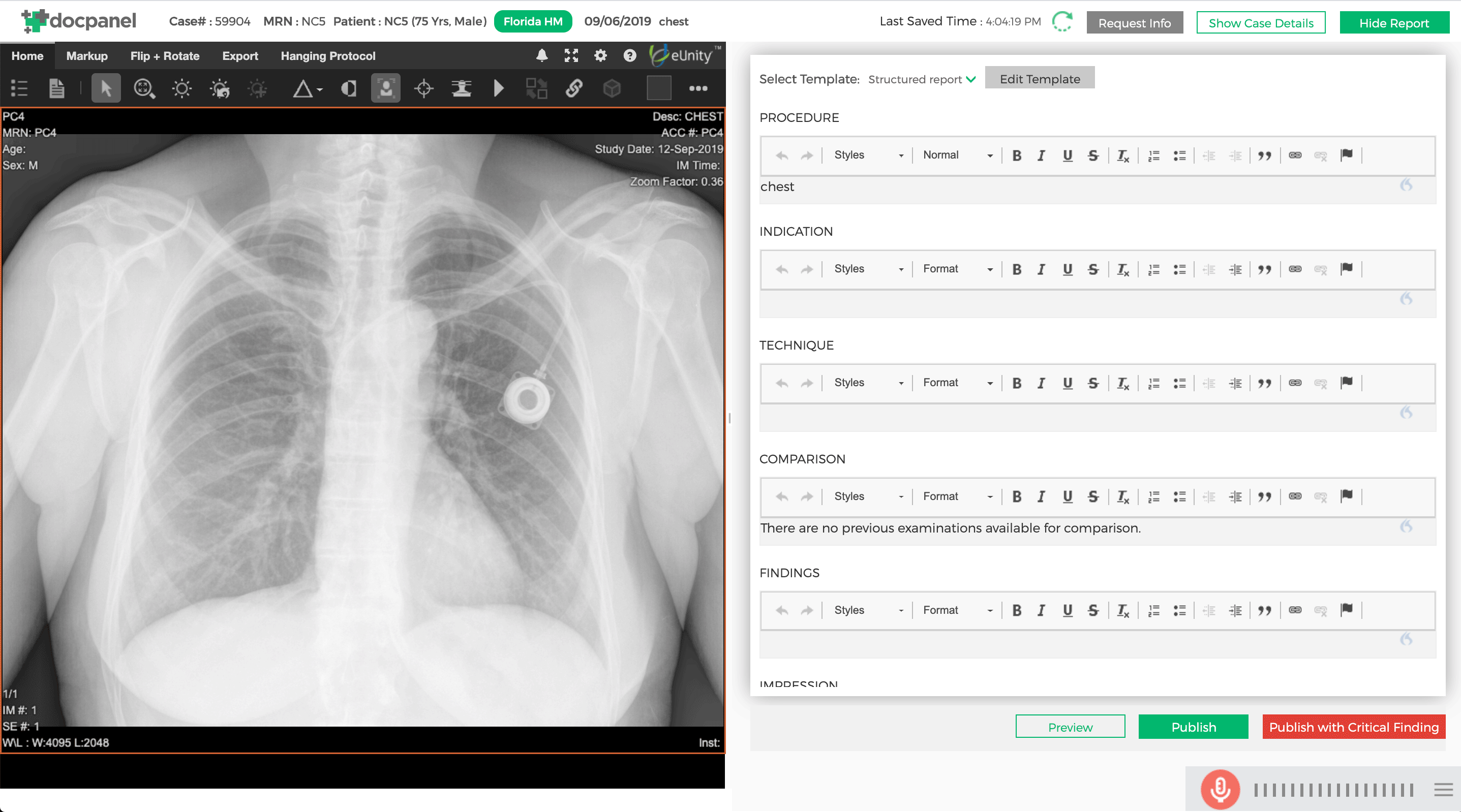 Enable clients to add critical finding contacts in their settings
Introduce two buckets for clients - Critical Finding Pending and Critical Finding Resolved to differentiate which cases need action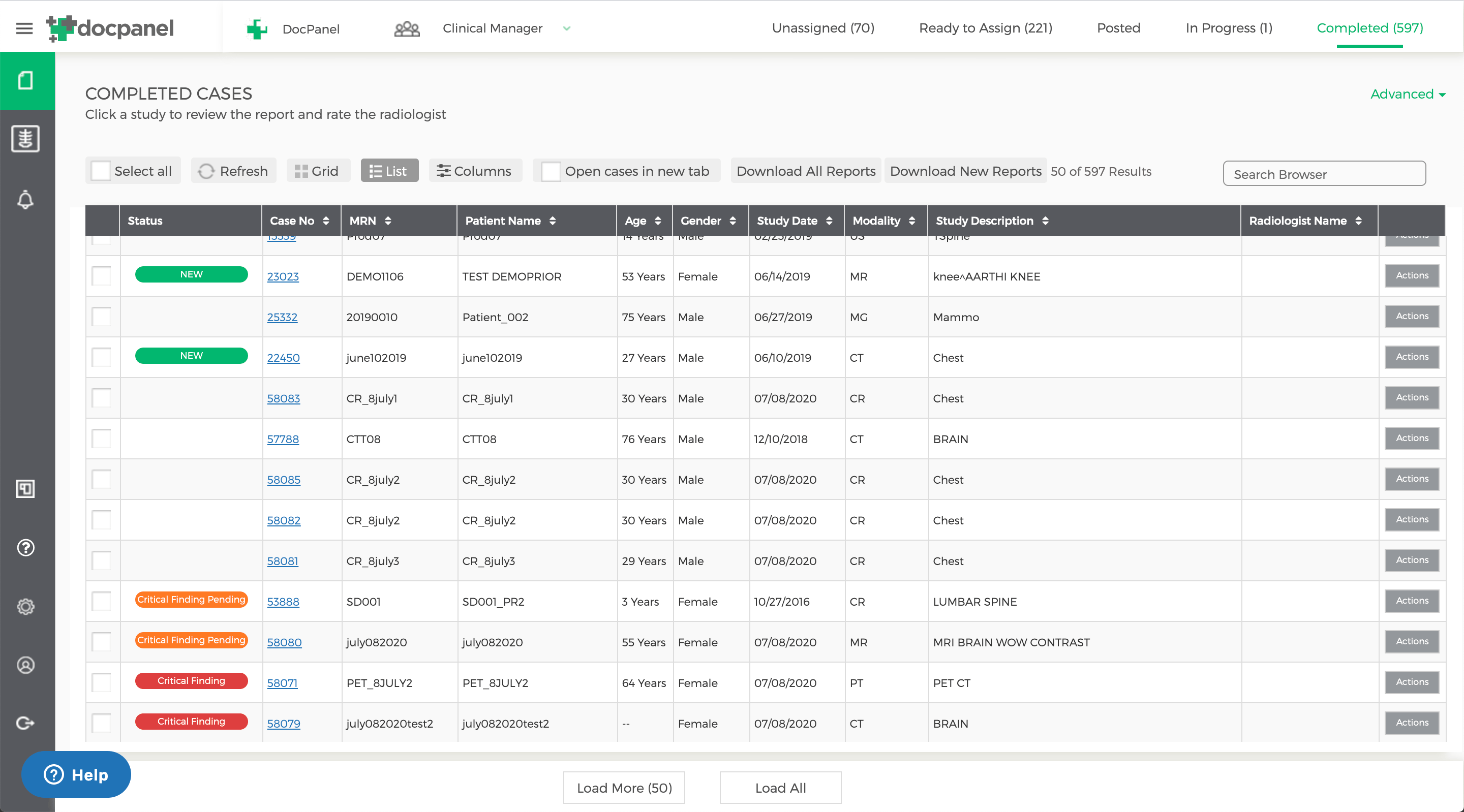 Impact
We had a 64% increase in radiologists reporting critical findings. The average time to resolve a critical finding case reduced from 8 days to 2 days.