DocPanel
is the world's first radiology marketplace, connecting patients and healthcare providers to a network of radiologists who provide radiology reading services on-demand.
I led the design and roll-out for DocPanel's new reporting templates feature. I was involved in the user research conducted with our radiologists. I was responsible for the UI/UX designs, prototypes and Jira user stories and I worked closely with the CEO, CTO and COO to design this solution.


The radiologist's case reporting module did not have a way to add or pre-load templates while reporting. Each report had to be dictated individually, making the process lengthy and inefficient.
The product goal was to create a template editor module that radiologists could use to customize report templates based on clients and cases. In addition to this, we wanted to build an algorithm to recognize the case's body part and pre-load the template based on it.

The business goal was to reduce the time radiologists spent reporting cases, so more cases could be read on our platform, resulting in an increase in company revenue.
67% of our clients require our radiologists to use customized templates while reporting cases, and the only way the templates could be added and modified was if they contacted us to make changes in the backend. The average time spent by a radiologist dictating a report was 11 minutes.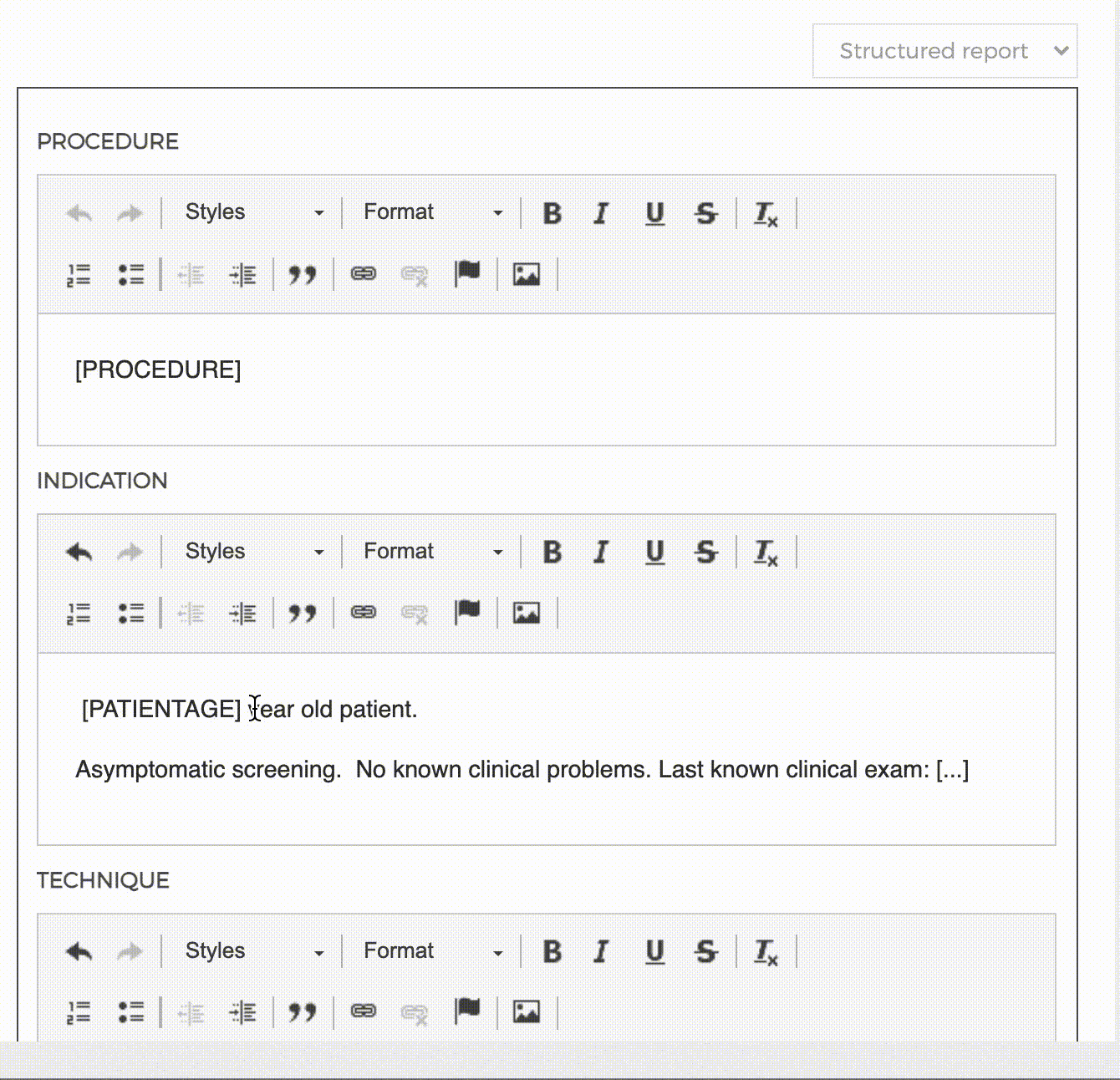 Sample template for a Breast Radiologist.
Interviews and surveys submitted by radiologists revealed a few pain points -
Adding patient information to each section of the report was time consuming.
Remembering the structure of reports (unique to each client) was difficult.
80% of a report template remains untouched, 20% requires the radiologist to dictate specific findings.
120+ active radiologists (average age - 47 years) reading 20-60 cases per day on the DocPanel platform. The radiologists use microphones to dictate each report.
Though the radiologists dictate reports using built-in speech recognition software, the platform needed a feature to make the case reading experience more efficient.

The radiologists participating in DocPanel, have a full-time job and read cases on demand as source of additional income. They are on a time constraint and need a fast and intelligent system to support them in reading cases.
Platform Feature
DocPanel's Reporting Templates module addresses two pain points of radiologists - customizing templates and associating it to clients, auto-populating information to make case reporting faster.
Key Features
Create and associate templates to specific clients using the Template Editor
A Template Editor designed to assist radiologists in creating and modifying templates. The webpage is split into two, the left side giving tips and tricks to make templates efficient and the right side is where the template can be edited.


Auto-populate variable patient information (name, age, gender etc.) in the report
An algorithm to auto-load templates based on the case's body part and the client it is associated to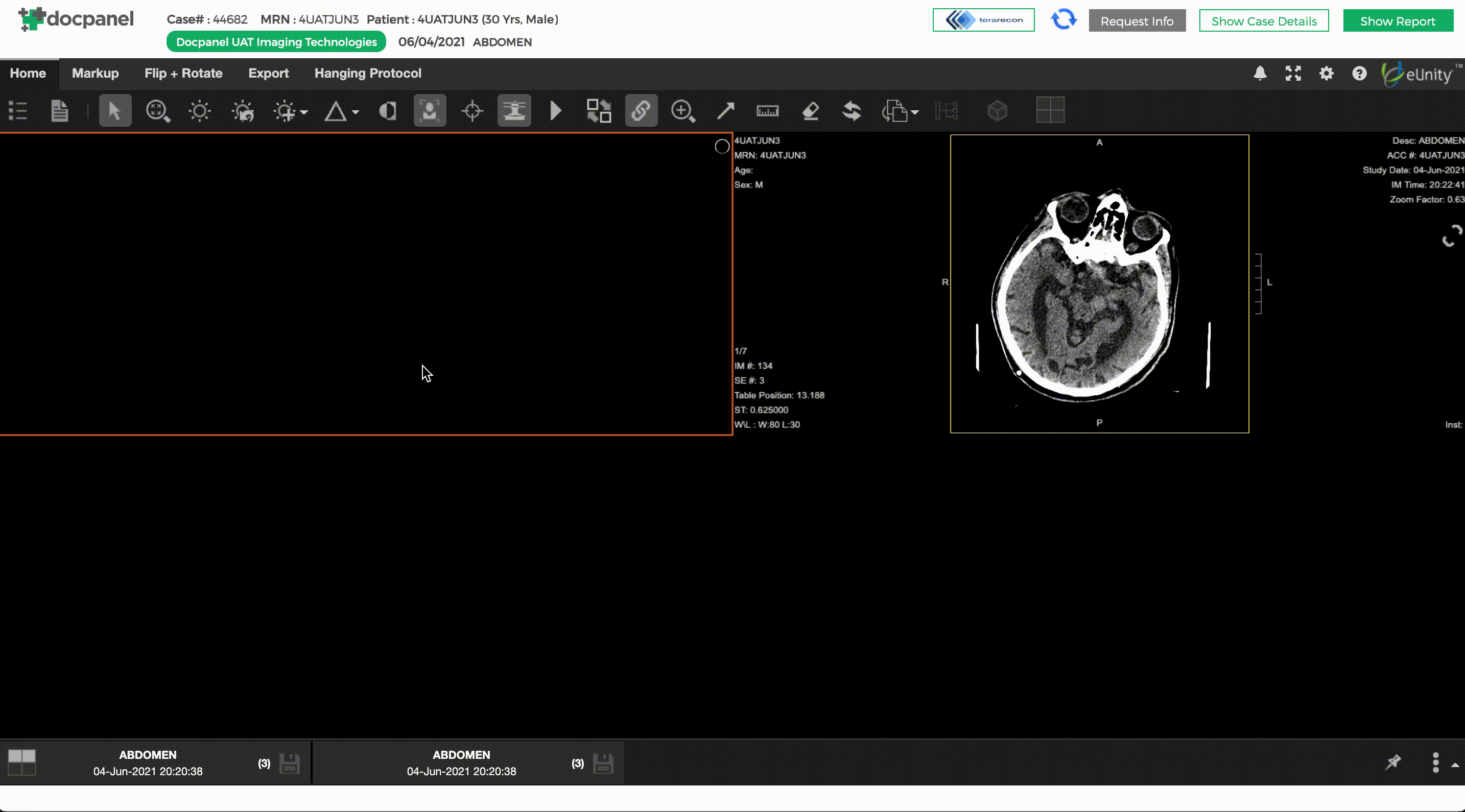 The template auto-populates with patient information based on the case's body part and client
A survey sent to 122 radiologists after the product release indicated that 87% of them used this feature to add new templates for their clients.

DocPanel's average turnaround time for cases reported reduced by 42%. This feature also reduced manual intervention by the support team.

Radiologists were disappointed that the Template Editor feature could only be accessed after opening a case.
This project was completed at the beginning of 2020. Since then, we have added a way for radiologists to access the Template Editor from their settings page. We have also given the internal team access to update templates and copy templates across clients or radiologists.